For more than a month, Maj. Ian Kendrick of the NC State Police Department and his roommate at the FBI campus in Quantico, Virginia had a great time attending and bonding on their robust 10-week degree program at the FBI National Academy.
His roommate, Alex, was one of several international students in the four-year intensive public safety manager training program, which includes a functional physical training component and five other specific training courses designed to improve law enforcement through information and idea sharing, creativity, and Collaboration and the advancement of the profession through proactive improvement.
Kendrick, a 16-year veteran of the University Police Department, enjoyed learning from his roommate's culture, even though there were language and cultural barriers they had to overcome in order to be able to enjoy their long, late-night talks.
Then, on February 24 — the day Russian troops invaded Ukraine in an aggressive assault on global security — things changed dramatically. Kendrick could see it in his roommate's eyes and hear it in his frantic voice on difficult calls back home.
Alex comes from Kyiv, the capital of Ukraine.
For the remainder of their training program, Kendrick and the other 260 police officers and security officers from around the world who had signed up for the program watched as Alex worried about his family, his colleagues and his country.
"There was definitely a shift," says Kendrick. "I could see the stress and hear the stress in his voice. It was interesting to see a person go from being this outgoing, happy person who doesn't have much about them other than the academic work we did to someone thousands of miles from their immediate and extended family.
"The experience strengthened us as friends and impacted the entire class."
bring people together
And that is the goal of the National Academy at its inception, which since its inception in 1935 has conducted nearly 300 sessions to provide thousands of law enforcement officers with training tools to improve the communities they serve.
"It's designed to bring people together, share ideas, and build friendships that we can carry for the rest of our careers and the rest of our lives," says Kendrick. "With what Alex went through, it brought us all together a lot quicker. We rallied behind him to support him through what he was going through."
Not surprisingly, the other members of the class ran to the fire for their new friend. At the end of the 10-week course, they loaded him up with excess protective gear and other needed equipment to send with him as he set out to return to his war-torn hometown immediately after completing the program on March 17.
"It was just the basic stuff that people wanted extra, stuff that we could easily get here," says Kendrick. "So our class got things out of our cars and gave them to him and said, 'This is for your boys.'
"I can't tell you how many times we'd be in our room after class at night and people would come over and be like, 'Hey man, what do you need? What does your family need? what do your friends need Is there anything we can send them?'"
Kendrick, 47, believes the relationship he and his classmates have forged with Alex has enhanced what has always been a once-in-a-lifetime experience for law enforcement officers who go through the highly selective process to attend the training academy for which only about 1% of law enforcement officers around the world qualify.
building better communities
He's also confident his experience — which included core courses in leadership and physical training, as well as four electives — will benefit the relationships he's forged during his two decades on the NC State campus.
In addition to courses in constitutional law, domestic and international terrorism, and new technologies, Kendrick took an elective course in breaking down barriers and building better relationships within communities.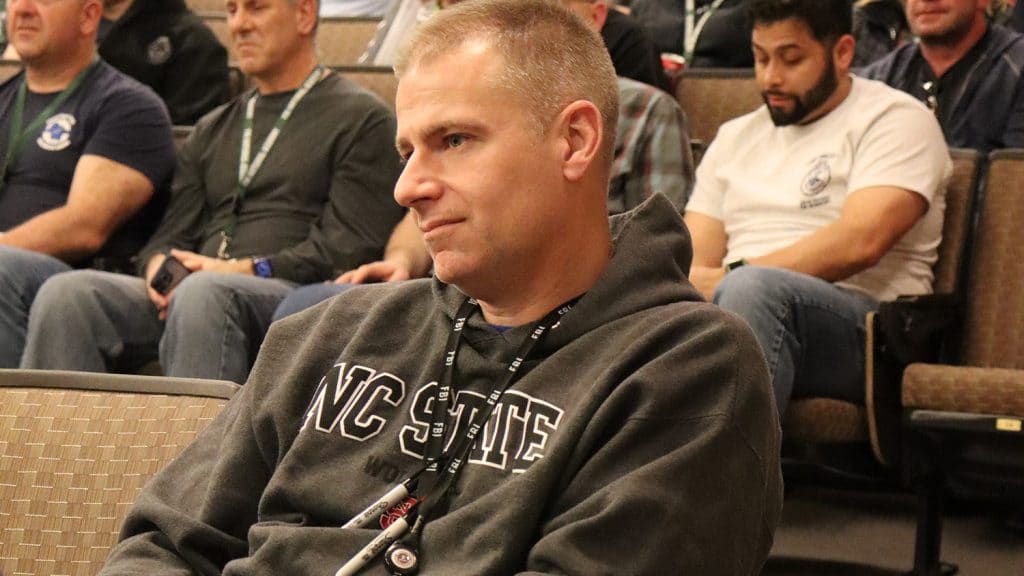 "That was by far the most important part of the program for me," says Kendrick, who joined UCPD in 2006 after more than eight years with the Rocky Mount Police Department. "For what I do and the environment I work in, it was far from the best thing I've done during my time there."
His goal now is to ensure that his extensive notes and the relationships he's forged with classmates and professors have a lasting positive effect on the NC State community, where he's been promoted to commander of the administration department since his return in March and oversaw a variety of important services such as B. Professional standards, Clery Act compliance, emergency communications center, records and the vehicle fleet, among other duties.
"Everyone I spoke to before I left said this program was going to be the greatest experience of my career," says Kendrick. "I was skeptical but I can honestly say it's true now because of the things I've seen, the things I've done and the people I've met.
"It was the greatest single experience of my career as a law enforcement officer. Now it's up to me to take what I've learned and apply it to the real world here at NC State."
Kendrick hears from Alex from time to time through a collaborative international communication app. He and his family are doing well as Kyiv tries to return to normal as Russian forces have withdrawn and focused their attacks on other areas of Ukraine.
"He's safe and his family is safe," says Kendrick. "It's reassuring to know he made it home — even if it wasn't the same home he left."